I'll try to include everything (i hope) regarding Aion installation and setup in this guide.
Just FYI if the image word's are not clear right click on it and then View Image
1-Things you need to download.
Aion client depends on which client are we playing. For
7.x
HERE
for
5.8
HERE
or
HERE
We need to download Conan's Aion repack from HERE
7z HERE or if anything do the same job.
2-Getting Started
We will download Conan's repack from the links above and we extract it using 7z or similer extarcting program into root driver i.e.

I:\SPP_Aion

Recommended:
before we launch the server we need to do it without any Java conflicts so we will add Java to System Variables as follows:
go to System Proprties by Right Clicking on My Computer (My PC in windows 10) and pick Proprties
then Pick Advanced System Settings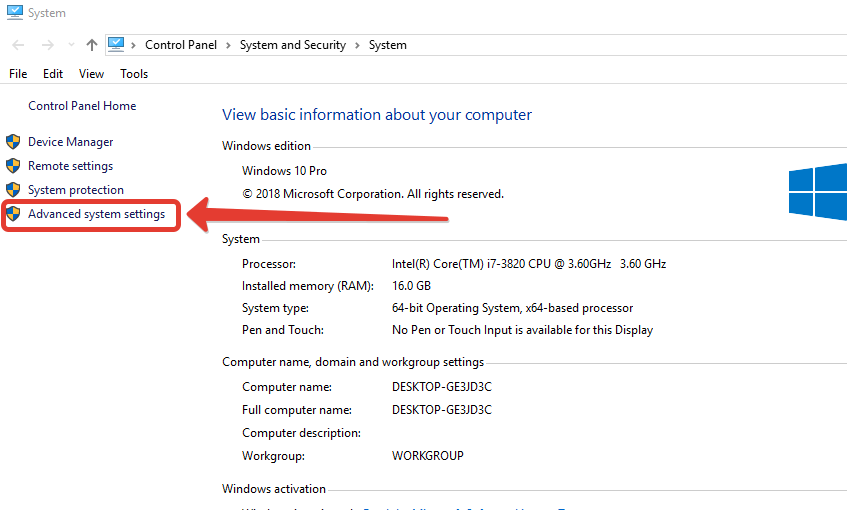 Then Enviorment Variables...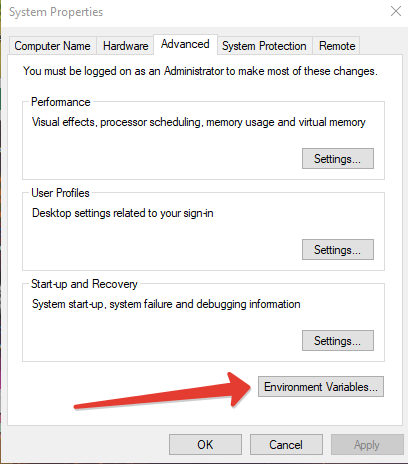 we Will Click New in User Variables Window and type in the Variable Name:
JAVA_HOME
Click on the Browse Directory and pick where is Java7 is in Conan's Repack in my case it's
I:\SPP-Aion\SPP-AionGermany\Java7
it should look like that

do the same thing under System Variables to end up like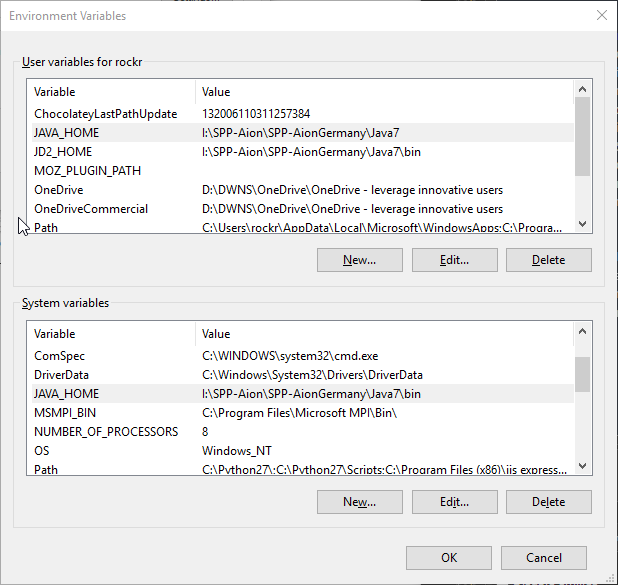 now we done with Java.
Secondly are going to run Update.bat if you are getting any issues run Update_fix_if_error.bat
We will Run Launch_Servers.bat and picking which server we need to run in my case i'll pick 2 7.x and wait for the server to load up
After server loaded up we will end up with these four windows :

Now we will start the client First thing first we need the launcher by opening the Zip file in

I:\SPP_Aion\SPP-AionGermany\#GAME_LAUNCHER

and dropping the content in the Base Aion folder

After that we need to open 3 files First 2 are in the client side which are

cc.ini

and

launcher.config

changing CC there to 2 or 1


now we verify the server side is set 2 as well (which is set to 2 already)

(ANY CHANGE ON THIS SERVER FILES RESTART IS REQUIRED)


Navigate to

I:\SPP_Aion\SPP-AionGermany\AL-Game_7.x\config\main\gameserver.properties


or if 5.8 to

I:\SPP_Aion\SPP-AionGermany\AL-Game_5.8\config\main\gameserver.properties





ALL THESE FILES SHOULD MATCH THE NUMBERS OR THE GAME WILL NOT RUN




Now we will start the client by running AionLauncher.exe in the main client folder
The account will be autocreated when you enter them in the login screen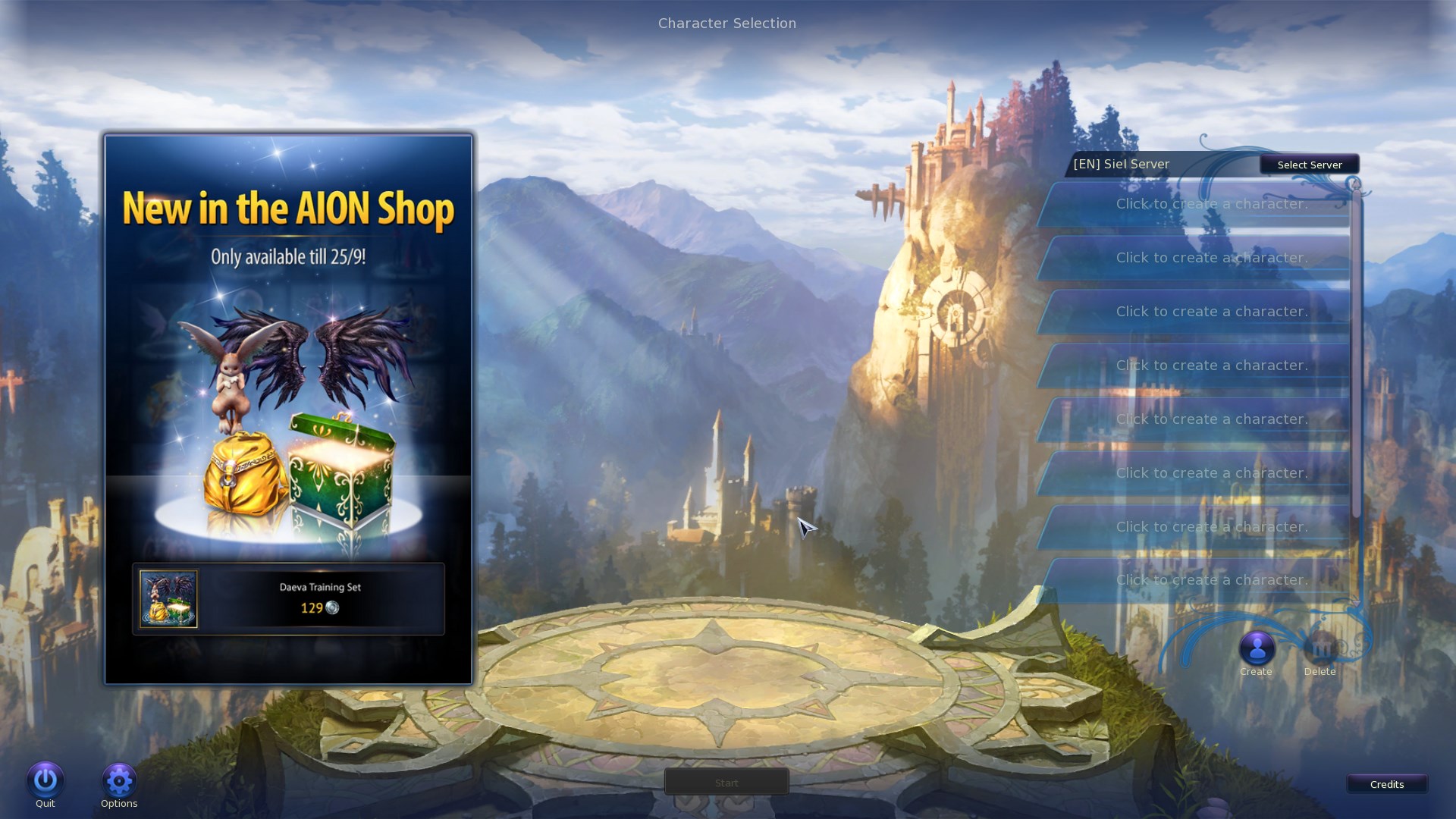 now we run Navicat we will click on Connection and pick

MariaDB

and Type in Connection Name any desired name for the connection (something to remember the Database with) and leave host as

localhost

Port to

3312

User Name

root

Password

123456




Recommended:

If you plan to make your server public you better change the user name and password to something unique by going to

I:\SPP_Aion\SPP-AionGermany\Database\connection.cnf

and open it with NotePad++ and changing the user and password from there

(SERVER RESTART REQUIRED)
After setting up the Database it should end up like the picture below


Now the Database should be running. to Acess the Account Data dobule click on the Database Name then

al_sever_ls

then pick

account_data



the password inside can be converted using the tool i included in
HERE
from your password to your database password.
3-Questions & Answers
Q.This Program is unavilable in your country
A.you didn't edit the cc.ini, launcher.config and gameserver.properties
Q.How to set my self as an Admin
A. by going to the account_data in navicat (showed above) and set your Access_level to 10
list of access levels are as follows
10 - Server-Owner 9 - Server-CoOwner 8 - Server-Admin
7 - Server-CoAdmin 6 - Developer 5 - Admin
4 - Head-GM 3 - Senior-GM 2 - Junior-GM
1 - Supporter 0 - Players
Q.I want to make my server public
A.Navigate to I:\SPP_Aion\SPP-AionGermany\AL-Game_7.x\config\network\ipconfig.xml then open it with notepad++
change the IP there to your public IP <ipconfig default="YOUR PUBLIC IP"> and open the ports which are Port 7777, Port 80, Port 2106 and Port 10241
Q.How to change the server name
A.Navigate to I:\SPP_Aion\SPP-AionGermany\AL-Game_7.x\config\main\gameserver.properties and search for gameserver.name

Q.Disable the autoaccount creation ?
A.Navigate to I:\SPP_Aion\SPP-AionGermany\AL-Login\config\network\network.properties switch loginserver.accounts.autocreate from true to false
Q.How to use Admin commands
A.you could use Shift+F1 or
HERE
Q.How to search for a certin item
A.
AionDatabase
Q.How to enable Aion Events (Arcade, decorations, rewards every hour)
A.Navigate to I:\SPP_Aion\SPP-AionGermany\AL-Game_7.x\config\main\events.properties
Q.How to enable in-game rewards per level's
A.Navigate to I:\SPP_Aion\SPP-AionGermany\AL-Game_7.x\config\main\html.properties and set gameserver.html.guides.enable to true
That's all for now if anything i'll keep this updated